We've seen other posts about Google suggest before, of course. And last night Michael Gray (@graywolf) tweeted, making fun of the fact that Google suggests that "google is skynet," among other things (image below). I thought this was a good enough idea for my first blog post in a while.
I was going to blog "a look back at 2009″ or " a look ahead at 2010″ but there have been way too many of those and at this point, another one would be just sad. And no one knows where search will be by the end of 2010, I guarantee you that. Of all the posts I saw, I do like Rand Fishkin's that criticized (rightly) Google's real time search window (among other things).
So I won't do that.
Instead, let's have fun with some screen caps from Google suggest.
Starting with… what does Google suggest that Google is?


How about Twitter?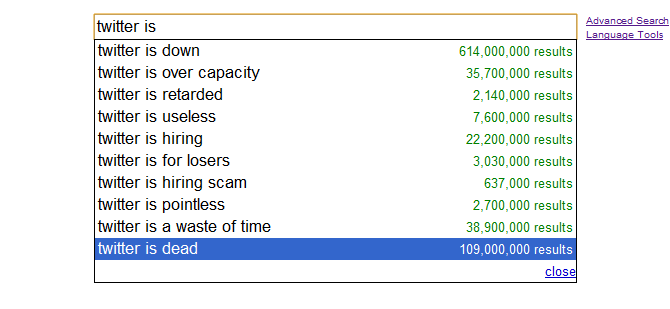 Go broader.
All of us in Web publishing are wondering what Google will do in the future. If you really want to know what Google will do in 2010, maybe Google can tell us!
Wait a minute, is that true, that Google will not search for Chuck Norris?
No, but it does have some interesting things to say about Chuck Norris. (Has Chuck Norris heard this?!)
Beyond fun, there is more to be learned from Google's tool:
You can get existentialist (or, if Chuck Norris is a fag, what am I?):

Find some scary suggestions about the current President of the United States:
You can check out the latest in the zeitgeist perhaps… say, about the biggest movie right now.
You could probably have hours of fun with Google suggest. But then you wouldn't be working.
Hey, kinda like Google suggest, apparently…..
And as that shows… Google suggest is not all that helpful. Come to think of it, I don't think there are very many times I've actually used it practically.
Although it can be fun.
Belated Happy New Year!