Digital marketing by Kitchener-Waterloo Companies is as, um… lacking as it is anywhere. While it's true that an experienced digital marketer looking at any website or company can see areas where there is room for improvement, I'm a bit surprised that many websites in KW don't have some essential aspects of SEO. KW is supposedly a technology mecca; we're supposed to be way ahead of the game. It's a fact, though, that most companies in the Waterloo Region are software-oriented and online marketing is all about creating meaningful content on your website and establishing worthwhile relationships with customers and potential customers, no matter if you are in B2B or B2C.

There are many examples of what I'm talking about. Some may have a reason to feel exempt, notably the most notable company in this region, Research in Motion. A company as big as RIM does not really need to worry about SEO such as being found for keywords like "smartphone" and they can easily create a vast social network through their customers. However, even Blackberry has missed opportunities such as the way a site like BBGeeks.com (run by some people I know well) filled in as a Blackberry applications support site. RIM may not have cared at one time – but at this point, it looks like they should have. By showing all along that they care about every aspect of the Blackberry world, they could have leveraged this good faith when things went sideways. They missed an opportunity and now, things like that look like complacency. And you cannot be complacent in marketing of any kind.
Digital marketing basics missed by many companies in KW
Other companies that I have looked at in this region don't even seem to know what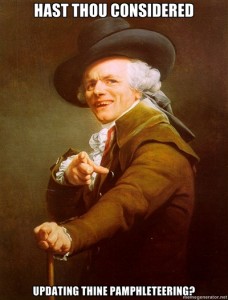 a title tag is for. This is the essence of marketing and branding online and you need to know what to tell people about your site though your titles. Most companies (not just in Kitchener-Waterloo… okay) are still telling people that their site is about themselves. To put it in marketing language they tell people what's in it for me instead of telling potential customers what's in it for them. This is classic poor marketing, whether we are talking about online presence or not.
I'm currently looking at recruitment sites in this area (consulting as I do was always only a temporary idea). Some local recruitment sites are savvy but many still miss opportunities. At least one website looks like it has not been updated in ten years or so. Kitchener-Waterloo SEO is still a very lacking thing, after all these years, for everything from FOB startups to retirement homes in Kitchener-Waterloo.
Out of the box SEO is never true SEO
Many local design companies claim to offer some SEO services.  There is a significant difference between search engine friendly website development and true digital marketing (or inbound marketing or internet marketing, whatever you call it where you are). Digital marketing, which ought to be a solid mix of search engine optimization, paid advertising and social media marketing goes well beyond an SEO design. I've spoken to many design companies in Kitchener-Waterloo lately and they do not do SEO. Companies in KW can see the results for themselves, though, when they launch a new site (that they probably paid thousands of dollars for) and they only get nominal search traffic.
What do you have to do to reach a broad online market? You have to have content: content provided by people who are aware of the market, aware of the latest changes at Google and aware of the best strategy that will last into the future. Content has to include heavy written content as well as graphics, video and more. You have to engage people with social media, listen to questions they have and answer them. You have to create your own online community. It's expensive, it's difficult to keep up, but you have to do it in today's world. Everything is online and online is everything.
There are other things wrong here in Kitchener-Waterloo that I haven't even touched on. A short list includes: startup companies that feel they do not need marketing ("We'll just go viral!" Do people still say that?); sites that raise security issues due to their being client-focused (and thus marketing-deprived); small businesses that are satisified with their word of mouth business and are always in danger of suffering for their own complacency (maybe they've been burned by online marketing in the past. Tough, the world is still changing).
So here's the pitch. Check out my long history of helping people succeed online.