Post-Penguin, Guest Blogging is a Great Backlinking Strategy (Again)
I've gone back to guest blogging in a big way in the last few weeks as one ideal strategy for outreach and link building in the post-Penguin era. In the wake of recent events, I think this works again, where for quite a while it was frustratingly inadequate compared to the spammy linkbuilding tactics used by competitors.
Guest blogging allows you to get good links from on-theme sites, with varied anchor text from a page full of original content. Those are all ideal qualities of a post-Penguin backlink. Guest blogging is also a good way for companies with limited resources to do some of their own SEO and (forget SEO!) just promote themselves.
Of course, the question with guest blogging is so often, why wouldn't I put content on my own site first? Well, of course you put content on your own site first. But guest blogging allows you to go beyond your own narrow subject area. You would for guest blogging opportunities on blogs about subjects that are slightly lateral to your site's own subject. For example, is your site about construction tools? Go to handyman websites and write some tool reviews that they would find, uh, handy. Google will view this as a relevant link, as your sites will share some keyword relevance. You won't be duplicating content you should already have on your site and you're definitely not shooting yourself in the foot by beefing the content of a direct competitor (not that they are likely to accept a guest post and backlink from you).
Wait, what's Penguin?
For those who don't know, Penguin was an algorithm update by Google back in April that is still poorly understood. It's worth taking a look back, for a second here.
Many people initially claimed that Penguin was all about deindexed link networks but that is far too narrow (that link only discusses that claim and also discusses Penguin very nicely, in fact). Others claim that Penguin targeted affiliate sites and if your site was a thin site with not enough content you got hurt by Penguin. I have argued this myself (sporadically) and I'm still testing the effect of affiliate links on post-Penguin SERPs, through some testing on my own affiliate sites. Others argued that things like spammy footer links or spammy keyword heavy titles were an important part of this update that was originally called an "over-optimization penalty." For its own part, Google explained the update using one horribly obvious example of spam.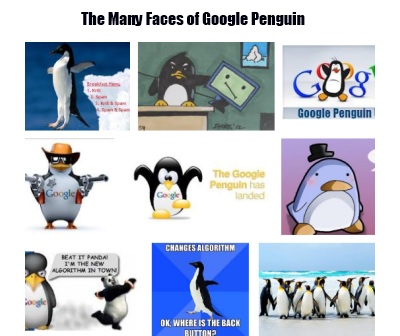 All of the theories above are probably true, each in part. Penguin wasn't a one-signal tweak to the algorithm. It was multifaceted, as all major updates are. Keyword stuffing and weak variation of internal anchor text are other things that Penguin likely dealt with. In other words, the bird carried a big hammer that targeted a lot of lazy, tired SEO-spam tactics.
I think the best answer to Penguin is to go back to creating quality and variety. One thing I will say is that long pages full of rich content (still optimized, mind you!) on solid, authoritative websites are an ideal way to go in the post Penguin era. Be an authority and be associated with fellow authorities (through, say, guest blogging on their sites).
That's really only a brief foray into looking at Penguin and I could spend a huge blog post on fully distilling Penguin… maybe I should… or maybe we should note that Penguin is part of Google's endless parade of changes all intended to improve search results, a small piece in a never-ending process for Google. There is another update coming to Penguin soon, Panda is being updated all the time and Google makes dozens of other tweaks every month.
And by the way, this post and – every post about Penguin (or Panda, for that matter) – seems like an incrimination of sorts. No client site of mine was affected by this update but my own "cobbler's kids" (my own sites) were affected but they were admittedly thin; notably, a site I had purchased only a couple months before was severely whacked. For another thing, as already stated, the bird had a big hammer and affected more SERPs than it probably meant to. Even Google offered an appeal form, the first time I think we've ever seen anything like that.
Getting back to guest blogging…
One important point in all this is that you need to interact with the rest of the web, give people information and show that you are relevant. Go back to the basics of establishing your authority and relevance. And guest blogging is one perfect way to do that.
I'm just going to take this opportunity to discuss some guest blog posts I've written. If you Google the subjects here and view these posts you'll see that guest blogging is not all about PageRank anymore, and relatively new sites can get you lots of retweets and other good stuff:
For VizualArchive.com I wrote a little advice piece about "How Designers Can Coexists with SEO's"
For ThemesandMods.com I wrote a piece called "How Designers and SEO Still Need Each Other."
I'm working on a piece for an Audi-brand-related site and many other ideas for a variety of sites.
These are all high quality blogs and the posts I wrote for them had to match. I do not understand why companies do not care about being associated with absolutely crappy sites that you get associated with when you do high volume low quality link buys from spammy SEO companies. Personally, I don't deal in spam.