I have heard the offhand statement "search engine optimization is not rocket science" a number of times lately. As if this statement is somehow witty or helpful in discussing SEO.  Of course search engine optimization is not rocket science.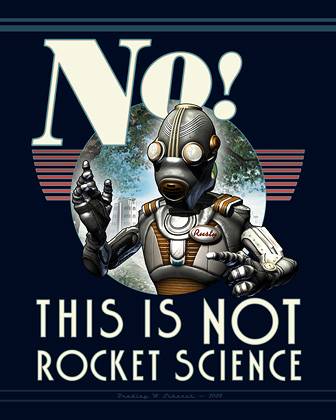 But anyone with a bit of real experience in SEO will tell you this – there are a ton of subtleties to wade through in this industry. While it is not rocket science (or brain surgery, as the other cliche goes), it is most definitely diligent work that should not be done by inexperienced amateurs. There  is a ton to be said for experience.
For example, have you ever  been page one for a term that actually has over 100,000 searches a month? Neither have most rocket scientists and brain surgeons, Mr. Notsowitty.
The following things can be said about SEO, though:
– It is search engine optimization, a specialized knowledge. You can buy it for cheap but I will tell you, you almost always get what you pay for.
– True, worthwhile SEO is a many-splendoured thing that mixes long tail content development, robust backlink gathering, social media awareness and a mixture of many other things, to create what has been called "a tasty soup."
– True SEO can't be learned at a conference and can't be taught.
Learning how to get legitimate ranking for tough keywords and to acquire significant traffic comes only with experience and nitty gritty work. If you don't have experience and/or the time to acquire it and to do the nitty gritty, you'll have to pay for the use of someone else's experience and time. And you're far better off doing that anyway.
And by the way: Rocket science is also not brain surgery, and vice versa, but I'll bet you never hear people at a rocket science conference, saying things like, "Look, rocket science is not brain surgery…."
Only rocket science is rocket science. And do space shuttles even use rocket science? Or do they use space shuttle science, in which case rocket science is obsolete? I don't know but in any case, I do not think SEO will be any time soon.